Great Smoky Mt National Park, A Photographer's Playground
Dec 28, 2019
Great Smoky Mountains National Park is a photographer's playground. There is so much variety with wildflowers, dogwoods, red buds, waterfalls,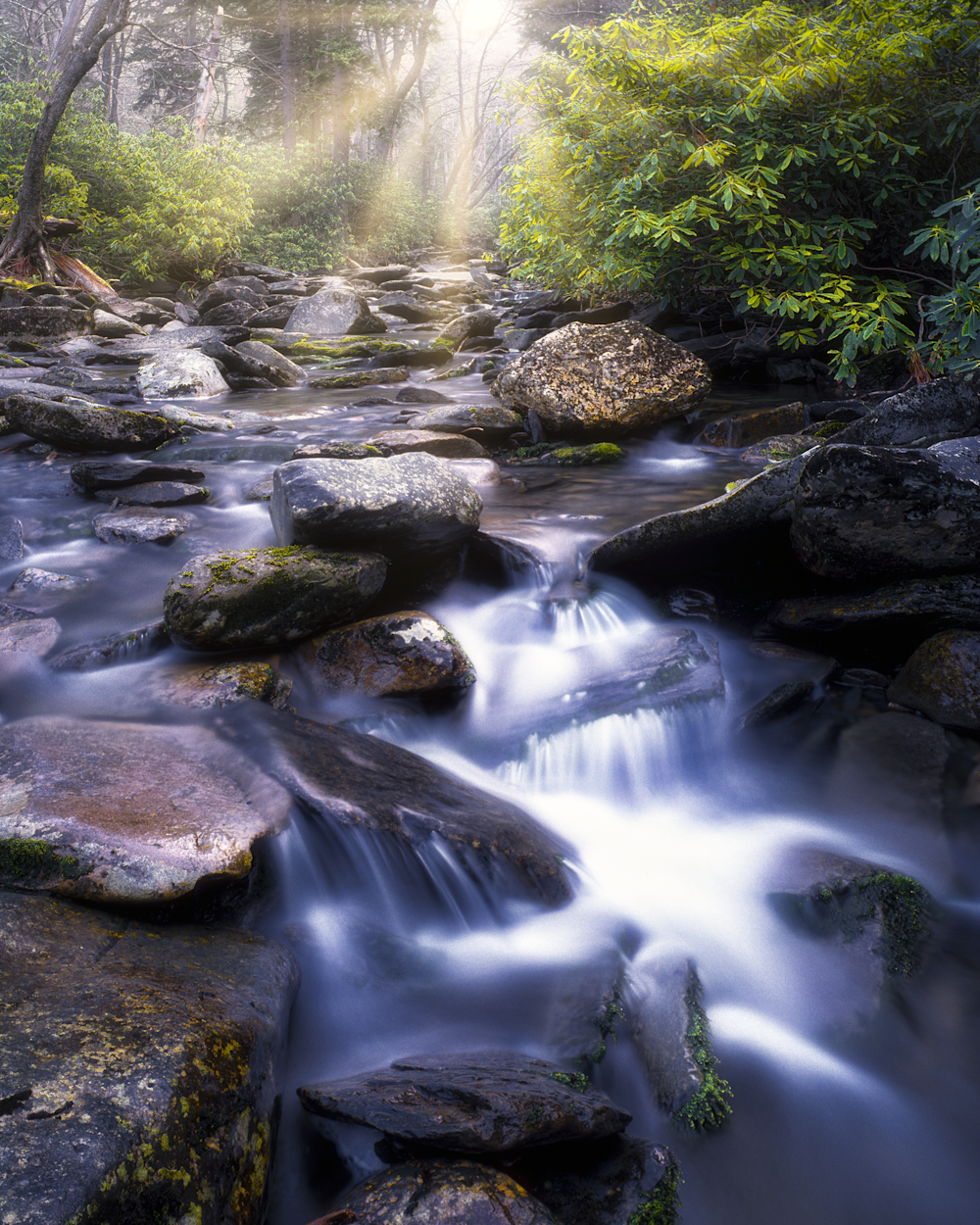 wildlife, trails and let's not forget that Gatlinburg and Dollywood aren't very far away either. The park is visited by over 11 million people each year. It is the most visited National Park in the American parks system. The park is over 800 square miles and straddles Tennessee and North Carolina. I've had the pleasure of visiting the park several times in Spring, Summer and Autumn. Each season has much to offer.
Morning Breaks Through is one of my favorite fine art prints from the many large format 4x5 photographs I've taken while hiking in the Great Smokys. The morning I created this photographic landscape, there was a mist hanging over the trail that pervaded the entire section of the park that I was exploring. Well, it is called the Great Smoky National Park for a reason. People might think photographic opportunities are somehow less because of overcast skies or when mist obscures the rich forest colors and hides sweeping vistas you know are out there. But, misty, overcast conditions can create different photographic opportunities that are as elegant and sometimes they can also be quite unique.
Sometimes you just get lucky. The creek and surrounding mountain laurels offered me a strong composition and I was very pleased with the dramatic arrangement as it was framed on the ground glass of my 4x5 field camera. While I was setting up my camera equipment, the sun broke through the overhead clouds and the trees. I was able to capture just two shots before the effect faded. Yet, I was fortunate to have put myself in the right place, at the right time, when mother nature made her offer to me of this elegant landscape.
Similarly, the intimate landscape of Abrams Falls below is an example of finding what might otherwise be hidden. I've heard it said that a sculptor artistically removes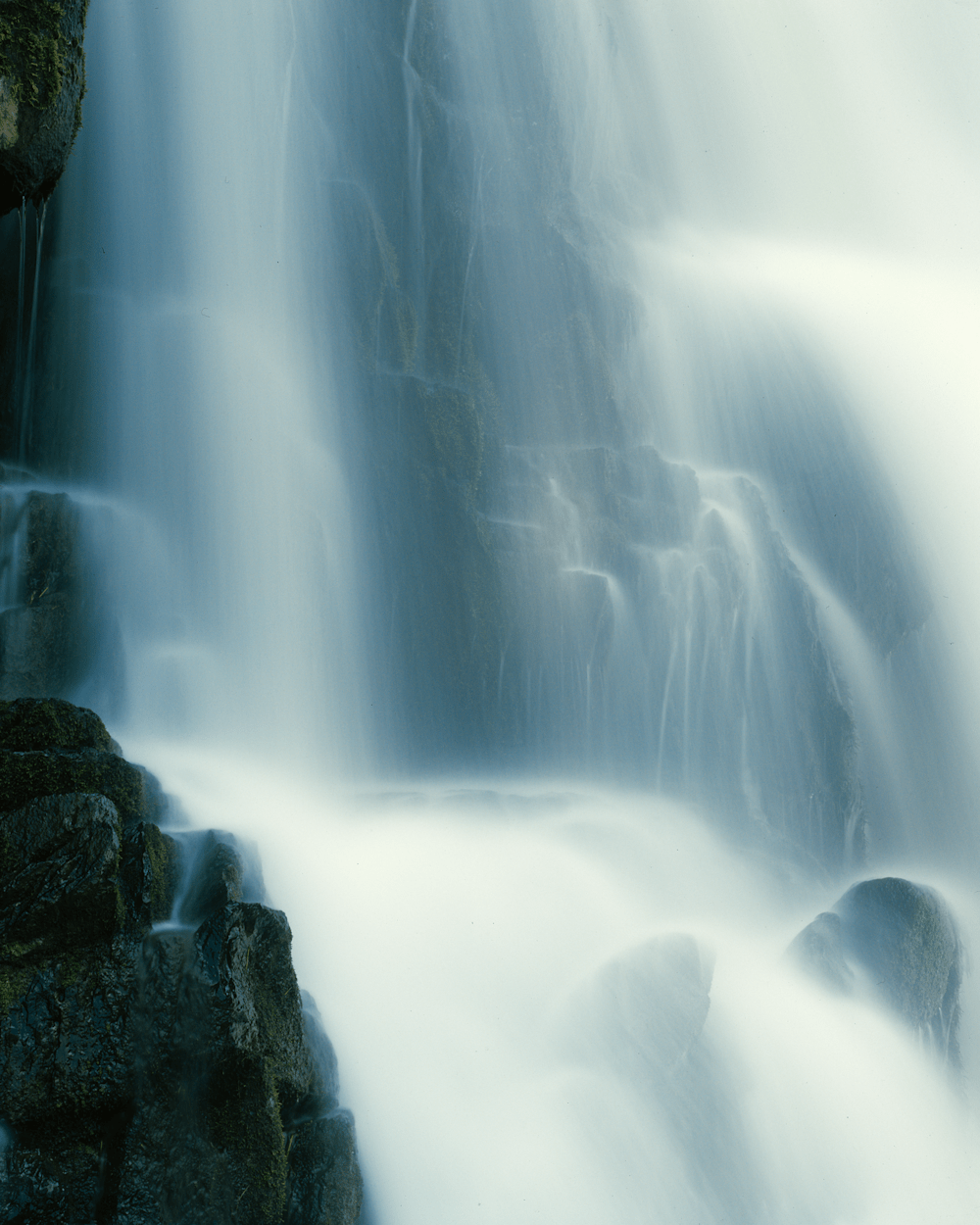 the unnecessary marble to reveal the masterpiece hidden within. That process takes an abundance of talent, a trained eye to envision what is possible and the skills to make it come to life. When it comes to sculpting, that is well beyond anything I could ever do. But when it comes to photography, there is a similar process. Taking in the entire scene of Abrams Falls didn't inspire me and the surrounding forest didn't enhance the scene in any artistic way. I walked around the area for quite a while before an image began to form in my mind. Like a sculptor, I found what was hidden within. A very long exposure time painted the water in a gossamer veil of white/blue while the ancient rocks, dark in color, stood strong against the constant onslaught of flowing waters. Abrams Falls, in this intimate landscape, is like an elegant and gentle veil covering an endless immovable structure.
The last landscape offered in my homage to Great Smoky Mountains National Park is Great Smokys in Shades of White. The rolling mountain peaks that many have come to appreciate when imagining the Great Smoky Mountains, have been beaten down over millennia. From a distance, they are soft, rolling and piled up in layers. I wanted to capture the essence of what the layers of these ancient mountains meant to me. A strong haze dominated the land and yet it offered an artistic opportunity. The photograph was greatly overexposed rendering the distant mountains as white shapes that said, "layered, rolling mountains". The panoramic crop reinforced the very core of what I envisioned as the quintessential image of the Great Smoky Mountains.
Great Smoky Mountain National Park is a special place. The home to more life forms, in both plants and animals combined, than any other national park. If you have only a day or if you have an entire week, you will be richly rewarded with a visit.