Grand Canyon Escape
Apr 09, 2020
Bright Angel Trail starts at the top along the south rim and snakes over 19 miles as it leads you to the bottom of the Grand Canyon and back up. They say the average time to make the trek is 48 hours. It's a two-day commitment. Admittedly, it took me almost three full days. Along with my 4x5 camera I also carried sheet film holders, a tripod, several large format lenses, light meters and all together about 40 pounds of assorted camera equipment as well as a tent, sleeping bags, food and water. It was a full load!
I hadn't planned for three days as I believed what I had heard about the 48 hours it would take. The extra weight in my backpack and the frequent stops to photograph the beauty all around me slowly added up to another full day. In the end, it would take me one day to get down and two days to hike up. On the second day of the hike back up the 19-mile trail and the 5,000+ foot elevation climb upward, I woke to two Fig Newtons remaining of my food supplies. I laugh now when I tell my story of my time in the park and having only the two Fig Newtons to nourish and fuel me on my third day of hiking. At the time, it didn't seem as amusing. Also, at camp that night before waking to my Fig Newton surprise, and in much need of a good night's sleep and replenishing rest, one of other hikers snored like a bear that rumbled throughout the entire camp keeping everyone awake throughout the night.
Needless to say, I struggled the next day as I was only halfway back up. But, there is always a "but"…., but it was well worth it. I came away with great memories and was rewarded with so many exceptional views of such a special place. Grand Canyon at Dusk, Hopi Point is one of my all time favorite elegant landscape of the hundreds of places I've visited.
At the end of the hike and at the top of the trail, having conquered Bright Angel, I dropped my backpack with a few thousand dollars of camera equipment at the entrance to one of the parks food service vendors. At the time, there was little concern for my equipment as hunger had my full attention. After two cheeseburgers, several large sodas, a pile of fries and lots of ketchup, I made my way to Hopi Point for the conclusion of three exceptional days.
Dusk was approaching by the time I made it to Hopi Point along the south rim of the Grand Canyon. I set up the camera, took a handful of light readings and snapped a few test shots waiting for the sun to do its magic. Sometimes when the sun is low on the horizon, the light waves are stretched passing through the earth's atmosphere and a reddish-orange color can appear. This was one of those times and I considered it God's gift to me at the end of three highly demanding days. I remember smiling at that thought when the color of light began to change while I sat and waited for Hopi Point to light up. This is what I saw...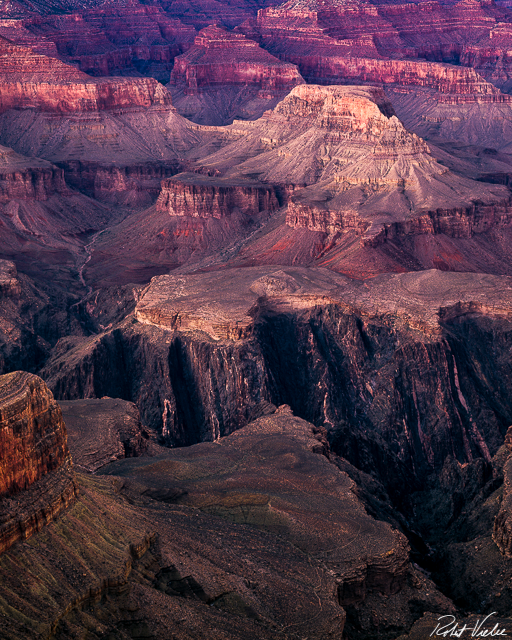 I photographed this in both vertical and horizontal formats. Sometimes people have a preference for one over the other. If you look closely, the two have a very slight shading difference. As the sun sets, light conditions change fast....4x5 large format camera equipment doesn't. The extra time to switch the camera back from one format to the other and to manually refocus the image on the ground glass, took maybe a minute even though I working quicker than I normally would have. That small amount of time gave nature enough time alter the light. I love both versions and have one hanging in my own office. They look great on metal.
Three days is the canyon. Worth every minute. And I still eat Fig Newtons.