Arches National Park
Feb 02, 2021
As a place of natural beauty, Utah is right up there as one of the most astonishing places in the country. With four National Parks; Bryce Canyon, Canyonlands, Capital Reef and Arches, along with many more National Monuments, National Recreation Areas and National Historic Sites, hikers, nature lovers, travelers and explorers can all find wondrous adventures in any one of Utah's special places. While I've been fortunate to have visited many of them, it is Arches National Park that is possibly the most unique and yet the most challenging to photograph.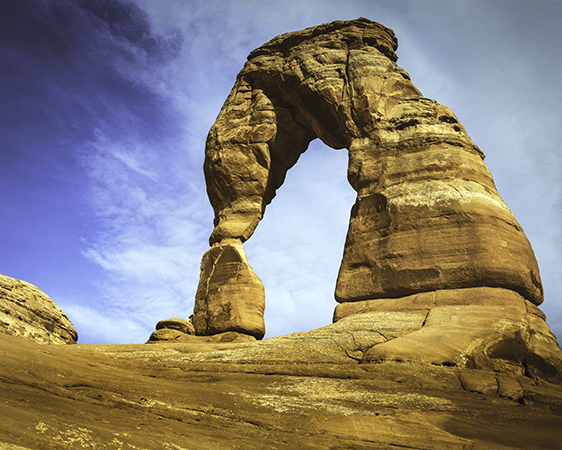 Title: Delicate Arch
The issue for me, is how to make a memorable landscape print that is different from what others have already created. Finding a different angle or at a time of day where the light adds vivid colors or even a sky that has interesting cloud formations. When I shot the parks most famous feature, Delicate Arch, I tried to capture it from below and with clouds painted across the background to give "size" to this 46 foot high natural arch formation and to set off the colors of the sandstone which makes up much of Delicate Arch.
One of the nice features of Arches NP is that most of the the trails aren't too difficult, with several notable landmarks either visible a short distance from a parking lot trail heads or only a mile or so to hike. I returned to Balanced Rock several times before finding the right angle and a view of the horizon that included interesting cloud structure. Here's an elegant landscape photograph of Balanced Rock which is only a short distance for where you might park your car.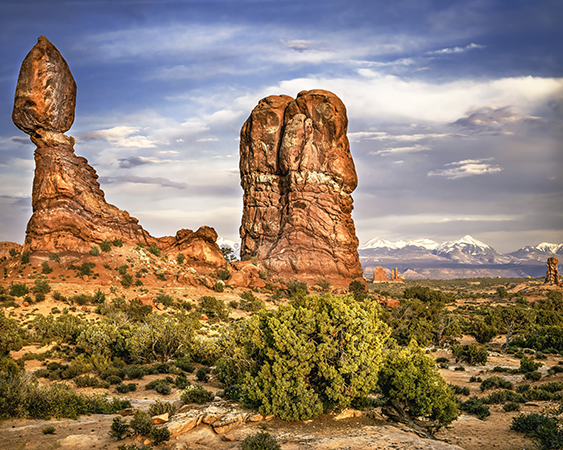 Title: Balanced Rock
With over 2,000 natural stone arches, pinnacles, fins and balanced rock structures, there is a lot to explore in Arches National Park. Maybe you are also interested in some of the astonishing facts about Arches' many landscapes such as Balanced Rock shown in the image above. It stands almost 130 feet high and weighs in at over 7,000,000 pounds! And it looks like it is about to tip over in a strong wind. Or that Delicate Arch was once knows by the local folks as the Old Maid's Bloomers. I guess you can see that with the two pillars of the arch appearing as legs stepping across the land.
Landscape Arch spans 306 feet from end-to-end is the longest natural arch in North America and in time will lose its relentless battle with gravity and collapse. In the mid-1970's parts of Landscape Arch broke off and fell to the ground.

Title: Landscape Arch Incoming Storm
In my quest to capture one of a kind landscape prints, I also photographed several iconic landscapes from Arches in black and white. The rich shadows and contrasting shades of grey brings life and detail to Double Arch: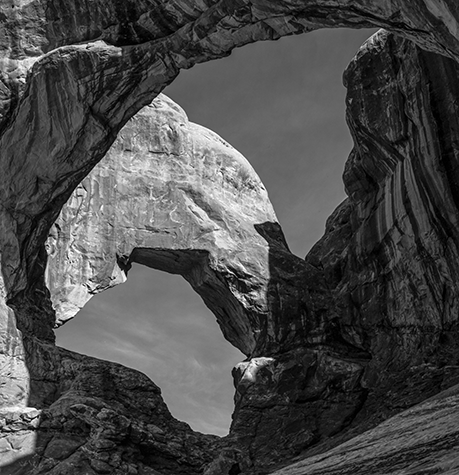 Title: Double Arch
And Turrett Arch as seen through Window Arch: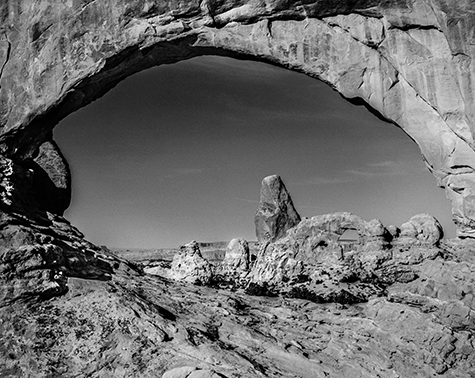 Title: Turret Arch through Window Arch
Arches National Park can be explored over an entire week if you take the time to hike many of the trails offered in the park or can be appreciated in just a couple of days by exploring many of the easily accessible landmarks from closely placed parking lots. Either way, Arches National Park will offer you a wonderful escape.