A Walk Amongst the Redwoods
Jun 03, 2020
A walk in the woods can be refreshing for your soul. On the day I captured this elegant landscape I was exploring a remote trail in one of California's redwood forests. When I turned back to see where I've been hiking, this idyllic scene gave me pause. It was just breathtaking. Rays of sunshine filtered through the trees sprinkling highlights in such a way to give focus to the majesty of these redwood giants. Snow scattered about the worn footpath as shadows seemed to close in and encircle the trail. Light streaked in to paint the sides of two lone redwoods as though posed to stand at the center of attention. Needless to say, I was in awe looking out at this beautiful offering of nature.
I knew I wanted to save this image forever. Standing there, I wanted to create something out of this that would come close to the peaceful, tranquil feeling of this unique setting. Color would have rendered a nice fine art landscape, but this scene reached out to me as a black and white landscape.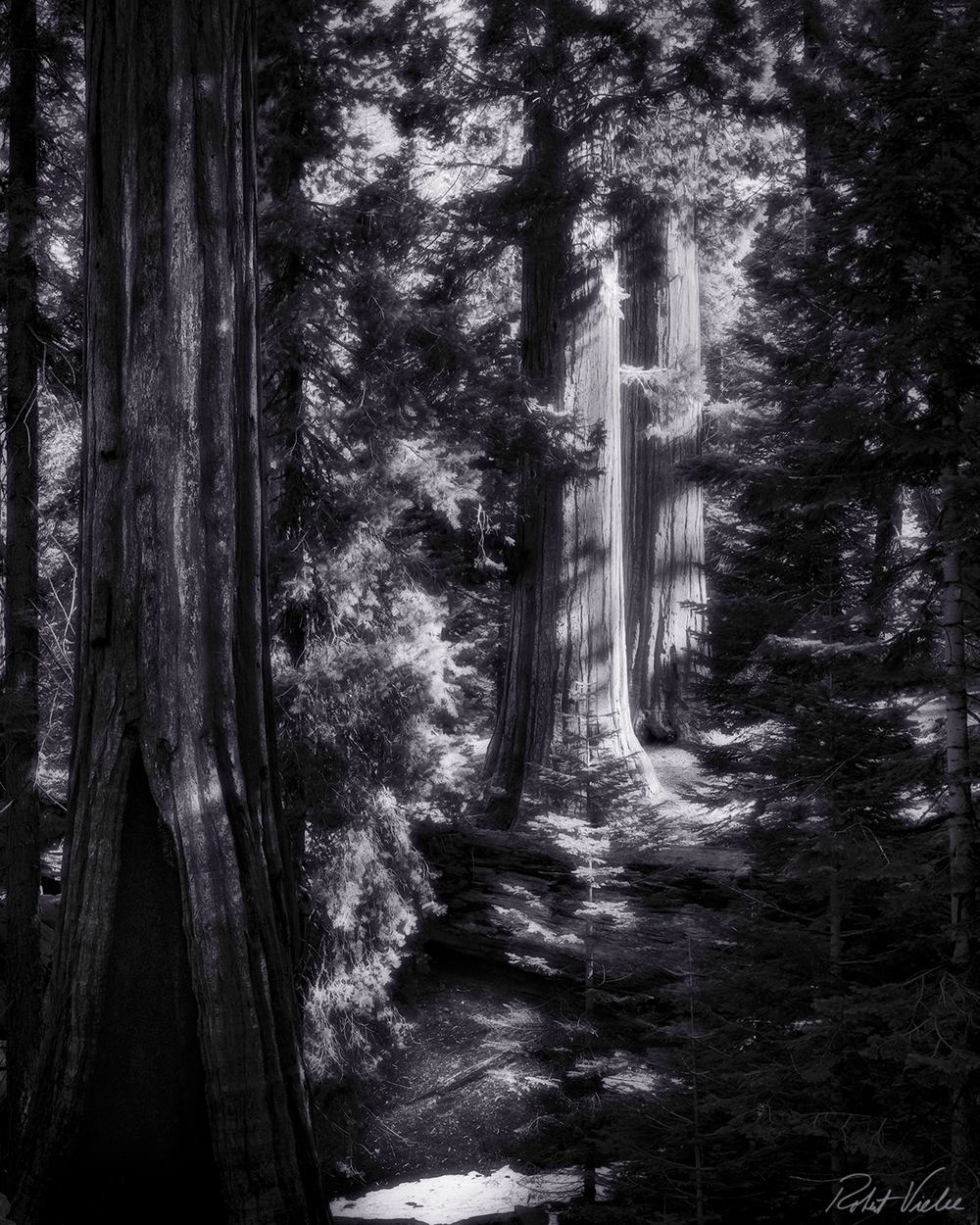 Footpath, Redwood Forest is an example of the advice offered in my recent blog about tips for taking better photographs. It was only because I looked back (behind me) from the trail I was on, that I was rewarded with this scenic gift and in the final exposure, I reduced the scene to its essential elements; that part of the 180 degree forest scene (as seen through my eyes) in front of me, that I reduced by 80% to include only what I needed to tell my story. The sliver of a view, the selection of the right focal length of lens to reduce the all-encompassing scene to represent my artist interpretation of the grandeur of nature before me.
The natural lighting was a challenge to photograph as the exposure range between the highlights and the shadows was beyond the capabilities of the 4x5 black and white sheet film to reproduce. I set the camera exposure so the shadow areas would hold on to detail and wouldn't just look as black shapes on the print; just enough exposure on the film to produce moody shadows with image definition of the surrounding forest. Unfortunately, that exposure that produced enough light on the negative to capture well defined shadows would wash out the highlight areas as pure white with no detail. Fortunately, there are ways of processing a black and white film to improve the negative. I developed the negative in certain chemicals for a shorter time than recommended so that the whites wouldn't be in the developer very long thereby holding on to the highlights with details. It wasn't an easy landscape to expose or to develop or to print. Yet the resulting negative was exposed and developed perfectly and that has allowed me to print this black and white landscape as I interpreted the scene.
This negative has since been digitized to create a print file capable of depicting the delicate lighting that offers a strong statement as a black and white photographic landscape. Digitizing the black and white, 4x5 inch negative has also afforded the opportunity to render this fine art landscape on a metal surface and as a very large print. While prints of all sizes, from 8 x 10", to 40 x 60" (and even larger) are beautiful on their own, there is a natural connection between a large metal prints of Footpath, Redwood Forest and the scale of a redwood forest. I love this fine art creation, Footpath, Redwood Forest maybe because it is one of mine but when I see it as a black and white 40 x 60 metal print, I'm taken back to that day and to the feelings it inspired.